The Sunderland HK – Call For Articles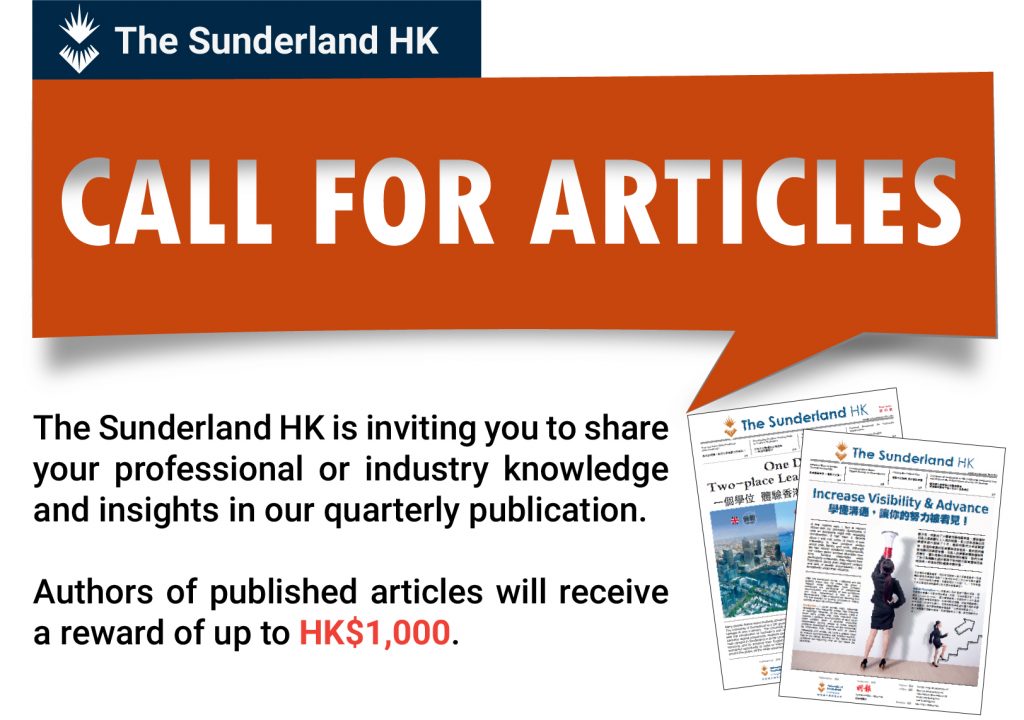 GENERAL CONDITIONS FOR SUBMISSION
The Sunderland HK only admits original manuscripts.
The chosen articles may be translated into English or traditional Chinese and edited for clarity and grammatical accuracy. We will seek author's approval before release.
The author will be responsible for obtaining permission for the use of any images and content under copyright.
The University of Sunderland in Hong Kong will not accept liability for the opinions expressed in submitted articles.
SUBMISSION DEADLINE
You are welcome to share your ideas and/or experience with us ANYTIME. There is no submission deadline and the chosen articles may be published in The Sunderland HK, university website or social media platforms within 6 months.
HOW TO SUBMIT
Complete and email the submission form to marketing@sunderland.edu.hk
Professional Skills
● Adaptability and Flexibility
● Brilliant Employability Skills
● Commercial Awareness
● Communication Skills
● Confidence
● Digital Competence
● Imagination and Creativity
● Leadership and Delegation
● Numeracy
● Organisation
● Pitch Anything
● Problem-Solving
● Team Working
● Working Independently and Autonomy
● More…
Industry Insights
● Accounting
● Artificial Intelligence
● Banking and Finance
● Business Management
● Business Start-up
● Data Science
● FinTech
● Hospitality
● Human Resource Management
● International Trade
● Logistic
● Marketing
● Travel and Tourism
● More…