Great news: University of Sunderland's ranking rises after a prolific 12 months

Great news: University of Sunderland's ranking rises after a prolific 12 months
We are thrilled to announce the University of Sunderland's ranking moved up 26 places in the Sunday Times Good University Guide 2021.
The university has risen from last year's 103rd to this year's 77th in just 12 months, according to the Sunday Times' latest league tables.
Another Achievement After the Latest Guardian League Tables
Just a week ago, the University of Sunderland also moved up the Guardian League tables.
Particularly, we saw excellence in the subject rankings, including English & Creative Writing and Sociology, Arts, Media, and Photography.
The Guardian's latest league tables are published just days before school starts, where a plethora of students in Sunderland, London, Hong Kong and all over the world, prepare to start – or continue – their life-changing journey with the University of Sunderland.
Our Efforts Attested by Global Recognitions
The past 12 months have not been easy on the higher education sector, particularly because of the pandemic situation.
All classes were changed from face-to-face to a blended learning mode, which combines online learning with limited face-to-face tutelage that followed stringent social distancing regulations.
Our tutors and staff strived to offer professional teaching and well-rounded support, reacted with flexible measures with understanding and empathy to cope with the challenges inflicted in these difficult times.
Putting these efforts as our utmost priority, the University of Sunderland continues to thrive. We are happy that our dedications have been recognised by our 'University of the Year' nomination by the Times Higher Education Awards.
Last year, the University was also awarded the 'University of the Year for Social Inclusion' by the Sunday Times.
What Do our Achievements Mean to Us?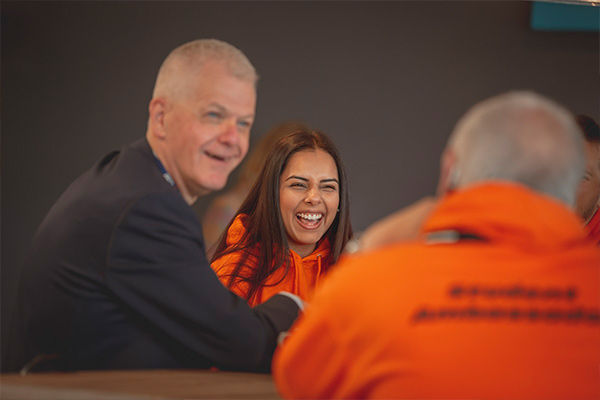 It is truly an incredible honour to have different organisations giving their nods of recognition to our thriving success and growing reputation.
These achievements are benchmarks in the higher education sector, signifying our academic programmes and educational delivery have excelled beyond expectations and reached a quality standard.
As Sir David Bell, our Vice-Chancellor and Chief Executive of the university said, "League tables are only one indicator of what happens in the University and should always be treated with caution.
However, our improved ranking in The Sunday Times Good University Guide, alongside us being awarded the 'University of the Year for Social Inclusion' in 2021 and our recent shortlisting as 'University of the Year', are indicators of the growing standing and reputation of the University of Sunderland as a whole and a positive step in the right direction."
Visit Sunday Times Good University Guide Rankings 2021
If you wish to browse this year's full Sunday Times Good University Guide rankings, please visit here.
For more information or further enquiry, please do not hesitate to contact us!